Steve Warshak, the founder of Berkeley Premium Nutraceuticals, has been sentenced to 25 years in prison and ordered to pay $93,000 in fines. He had been convicted in February on 93 counts of conspiracy, fraud and money laundering. His mother, Harriet Warshak, was sentenced to 2 years in prison arising from her conviction for conspiracy, bank fraud and money laundering. U.S. District Court Judge S. Arthur Spiegel, also ordered Warshak, his mother, and the company to forfeit more than $500 million in ill-gotten gains. Several other employees will be sentenced this week.
Most of the charges relate to the sale of Enzyte, a supplement supposedly capable of boosting male sexual performance. The company, however, falsified medical studies, used fraudulent bank documents, and ran up charges on the credit cards of customers, while refusing to give refunds or stop serial transactions on the cards.
The company's logo included the Latin phrase suffragium asotas, which Warshak claimed translates to English as "enhanced sexuality". He may have meant to use the phrase suffragor asotis, an awkward way of saying, "refuge for the dissipated". Perhaps that is what the Big House will be for him.
We applaud the prosecutors in this case as these kinds of prosecutions are long overdue in this industry.
And we're relatively certain Smilin' Bob ain't smilin' no more.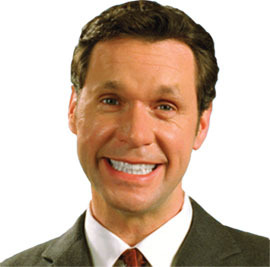 Sources:
Alaska Injury Law Blog, February 22, 2008
Cincinnati.com, August 27, 2008